The Lord is good to all: and his tender mercies are over all his works.  Psalm 145:9


As of October 14, 2020 we are holding regular services at our church and welcome everyone, wherever you are on your journey of faith. Please join us for Sunday Services at 10:30 am and Wednesday Testimony Meetings at 7:30 pm.
Sunday School is presently online and transitioning into a hybrid of both in-person and virtual classes. If you would like to join us, please contact the Superintendent for further information (609-651-0548). 
Child care can be provided if you let us know ahead of time. For further details please write to clerk@csprinceton.org.
In order to comply with government regulations and to keep everyone safe, we have established the following guidelines:
Wear masks at all times.
Keep social distance.
No gathering or congregating indoors at any time.
Enter and exit through the front door only, including wheelchairs (side door reserved for Sunday School).
Sanitizing stations are available for those who want to use them.
The restrooms off the entrance lobby can be used one-person-at-a-time inside the cloakroom area. Restrooms off the Sunday school lobby may be used (through the side door).
Coats to be taken to your seats.
Seating conforms to markings as laid out in the pews. Ushers will provide assistance.
Leave quarterlies and hymnals in the pew racks after the service.
Singing only with masks properly worn; however, humming is advised.
Collection boxes are at exit in balcony and near front door. 
Attend only if you are feeling well, and do not attend if you show any symptoms of COVID or if you have had contact with anyone who showed symptoms or has been quarantined.
If you have traveled recently to an area on the NJ government travel advisory list, please observe the recommended 14-day quarantine (see: https://www.nj.gov).
We expect you and your family to adhere to these guidelines and the government regulations.
We are an active faith community, a branch of The Mother Church, The First Church of Christ, Scientist in Boston, MA, founded by the discoverer of Christian Science, Mary Baker Eddy.
We are happy to share recordings prepared by the First Reader for recent Wednesday gatherings of our congregation:
Readings for April 15, 2020 on "Healing"

Readings for April 8, 2020 on "Gratitude"

Readings for April 1, 2020 on "Fear"

Readings for March 25, 2020 on "Purity"

Readings for March 18, 2020 on "Power"

Readings for March 11, 2020 on "Contagion"
Our Reading Room has re-opened, and our Librarians are on duty and ready to help you find materials or answer questions. We are also currently providing free local deliveries for items sold by the Reading Room.  You may contact the Reading Room Librarian by leaving a message at 609-924-0919 or you may send an email to readingroom@csprinceton.org. También podemos ofrecerte ayuda en Español.
From the Mother Church, The First Church of Christ, Scientist, in Boston, the Sunday church service at 10:00 a.m. and the Wednesday testimony meeting at 2:00 p.m. are both streamed live via this link: Online Services. Replays of both services are also available from this same page.
The Daily Lift offers daily a quick spiritual inspiration, Monday through Friday. You can hear online or register to receive the daily notification via email. Follow this link.
At this time, many resources are made available to everyone free of charge. You will find articles, lectures, shared perspectives, experiences of healing and protection and more. We invite you to explore.
www.christianscience.com is the central site for Christian Science, with resources in many languages.
The Christian Science Monitor provides balanced, credible, accurate coverage of the current crisis with the highest journalistic standard. See Coronavirus coverage: the editors write "Throughout the crisis, our aim has been to provide stories that are consistent with our object, 'to injure no man but to bless all mankind.' Amid 24-hour news and misinformation on social media, we seek to be essential to giving our readers accurate information and peace of mind." Follow this link. 
Christian Science Journal. At this time JSH-Online is providing paywall-free collections focused on economic security, finding certainty in uncertain times, immunity, and overcoming fear. Follow this link. 
Further questions? Write to readingroom@csprinceton.org or call 609 924-0919.
Please remember, we are here for you and yours.
Board of Trustees of First Church of Christ, Scientist, Princeton
clerk@csprinceton.org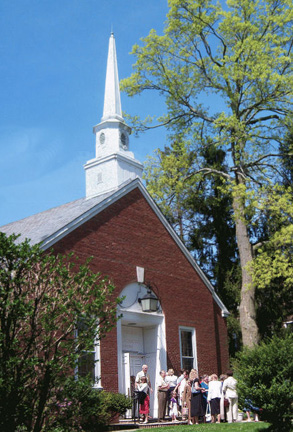 Begin your week with an inspiring and healing service which includes a Bible Lesson-Sermon, along with hymn singing and prayer.
Bring your children to the Sunday School to learn of the spiritual tools found in the Bible and Science and Health*, and their practical application to their lives.
(Children too young for Sunday School are cared for in our children's room.)
Come for a mid-week evening service which includes inspiring, topical readings composed of passages from the Bible and Science and Health*, hymns, prayer and testimonies of the practical proof of Christian Science healing by members of the congregation.
(Children to age 7 enjoy the children's room during this service.)
Open Monday - Saturday 10 a.m. to 4 p.m.
178 Nassau St., 609-924-0919
The Reading Room is a place for all who want to learn more about God and their relation to Him. You can ask questions, study, read, or purchase the Bible; Science and Health with Key to the Scriptures, by Mary Baker Eddy; the monthly and weekly Christian Science magazines, The Christian Science Monitor, and many inspirational publications.  You may use many other related resources available in print or on-line. Free parking for Reading Room visitors is located directly behind the building. Drive through the Public Lot at 13 Park Place to Access.