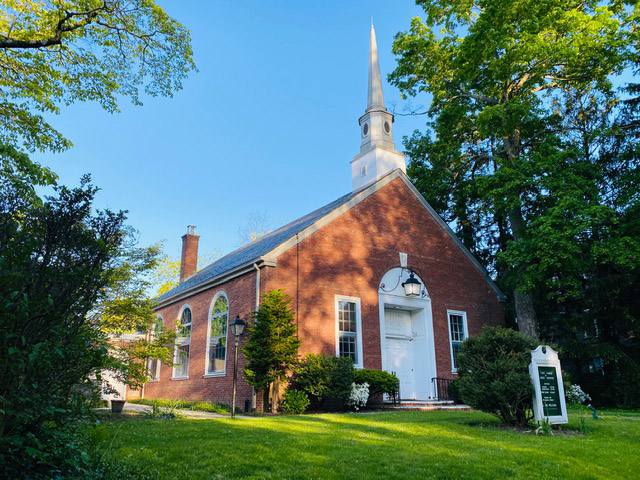 MORE THAN A CENTURY OF CHRISTIAN SCIENCE IN PRINCETON
Over 100 years ago, a group of residents in Princeton and the surrounding towns, who were interested in the healing benefits of Christian Science, decided to hold weekly informal meetings to read together the Christian Science Bible Lesson-Sermon. 
In 1914, the informal gathering became a Society (the first step toward becoming a branch church).  By 1928, the Christian Science Society had become First Church of Christ, Scientist, Princeton, a recognized branch of The Mother Church, The First Church of Christ, Scientist, in Boston, Massachusetts.  The church services were held in a small building on Olden Street.  
In this same year, the membership opened a Christian Science Reading Room at 20 Nassau Street (2nd floor).  In the ensuing years the Reading Room was located at 6 Chambers Street, 29 Witherspoon Street, and today is located at 178 Nassau Street. 
In 1946, the present site of the church, 16 Bayard Lane, was purchased. The edifice was completed in 1950, and dedicated in 1955.  
The church has served the Princeton community ever since.   
ABOUT MARY BAKER EDDY, DISCOVERER OF CHRISTIAN SCIENCE
In 1866, Mary Baker Eddy was healed of a near fatal injury while reading a Biblical account of one of Christ Jesus' healings. She realized through this healing that there must be some method behind his healing work.  To find the answer, she turned to the Bible, including original texts which she learned to read as a young student.  As her Bible studies progressed, she realized that she had discovered the Science of spiritual healing taught and demonstrated by Christ Jesus in his ministry on earth.
Wanting to share this discovery with all mankind, she began to write what she was learning, and in 1875, she published the first edition of the Christian Science textbook, Science and Health with Key to the Scriptures. This scientific healing method was proven through a vast accumulation of documented cases of physical, mental, emotional and situational healings by her and by thousands of others whom she taught, at first in small classes, later in her Christian Science Metaphysical College in Boston, Massachusetts (1881-1889).  Since 1892, Christian Science healing has been taught through the church.
Mrs. Eddy saw that it would take more than a book and a small college to make this spiritual science available to all, so in 1879, she founded the Church of Christ, Scientist "designed to commemorate the word and works of our Master, which should reinstate primitive Christianity and its lost element of healing." (The Church Manual, p. 17:10-13).   In 1892, realizing that a more spiritual organization was needed, she dissolved the 1879 church and reorganized it, under The Church Manual, with a new design, and re-named it The First Church of Christ, Scientist, also known as The Mother Church, which includes branch churches throughout the world. The Mother Church, with its branches, is "designed to be built on the Rock, Christ; even the understanding and demonstration of divine Truth, Life, and Love, healing and saving the world from sin and death; thus to reflect in some degree the Church Universal and Triumphant." (The Church Manual, p. 19:2-6).
For in-depth information about the life of Mary Baker Eddy, and Christian Science, click here.
To read Science and Health with Key to the Scriptures by Mary Baker Eddy, click here
Mary Baker Eddy provides a "brief exposition of the important points, or religious tenets, of Christian Science" (Science and Health, pp. 496-497) in both Science and Health and the Church Manual (pp. 15-16).
THE TENETS OF CHRISTIAN SCIENCE
Science and Health with Key to the Scriptures by Mary Baker Eddy, p. 497
As adherents of Truth, we take the inspired Word of the Bible as our sufficient guide to eternal Life.
We acknowledge and adore one supreme and infinite God. We acknowledge His Son, one Christ; the Holy Ghost or divine Comforter; and man in God's image and likeness.
We acknowledge God's forgiveness of sin in the destruction of sin and the spiritual understanding that casts out evil as unreal. But the belief in sin is punished so long as the belief lasts.
We acknowledge Jesus' atonement as the evidence of divine, efficacious Love, unfolding man's unity with God through Christ Jesus the Way-shower; and we acknowledge that man is saved through Christ, through Truth, Life, and Love as demonstrated by the Galilean Prophet in healing the sick and overcoming sin and death.
We acknowledge that the crucifixion of Jesus and his resurrection served to uplift faith to understand eternal Life, even the allness of Soul, Spirit, and the nothingness of matter.
And we solemnly promise to watch, and pray for that Mind to be in us which was also in Christ Jesus; to do unto others as we would have them do unto us; and to be merciful, just, and pure.